The largest collection
of persuasion hacks,
word for word scripts
and psychological
tactics on the planet internet
That Will Turn You & Your Business Into
a Persuasion Powerhouse
Tricky Conversations Script Bank- Instant Access to 20+ Email Scripts That Will Turn Every No Into Yes and Every Maybe Into HELL YES!
Persuasion Bag O' Hacks- Instant Access to 20+ Trainings & Hacks That Will Make Business Actually Fun
Hot Shit Webinars- Instant Access to 60+ Webinar Recordings from all my launches over the past 4+ years
One New Training + One New Script Added Every Month + Any New Free Webinar I will Offer
Repeat after Me: THEY LIE! Have you been told that it takes months, even years to master persuasion?
That it takes blood, sweat, tears and a lock of hair from your first-born to get there?
That you get what you put in and therefore should sell your house so that you can afford that uber-expensive coaching program?
I like to call that Booolll Sheeet (BS for short).
There is a shorter, more effective and very affordable way to get people to buy your work, your ideas and even you.
You gotta pay your dues right? Wrong.. Dead wrong!
If you take targeted, focused action and follow a prove system, you can omit the mindless panic and the sheer heartache that comes from not knowing, second-guessing and half-assing your way to a successful business.
Can I cancel any time?
I have a one-click cancellation stategy. If you don't Love the lab, I insist that you cancel. Even though it will break my heart, it'll be best for both of us.
How do I Pay for My Master Key?
You will be asked to register when you click that bright blue button and then you can pay through your credit card.
How Will You Choose What to Add to The Lab?
Based on your suggestions. Need a script in a pinch, give me a shout out in the group and I will have it up in the Lab.
Why should I buy it? I am kinda busy right now.
Because I am not offering it at this price (It started at $7.95 and will go up further!) much longer and also because the sooner you learn the not-so-dark art of persuasion, the better it is for your business and life!
Will it work for me if I am a Buddhist monk, porn artist (insert unusual occupation?)
Persuasion works in every industry and for all business sizes…yes, even product based businesses. Although if you are a porn artist, perhaps you can teach ME few things….you know for research purposes.
Why is it priced so Low?
Because I made it that way. Because I am a nice person and also because I love you (no really I do even if my resting bitch-face says otherwise…I am a nice loving, generous person who likes to help people…how's that for modesty?)
"Open rates are skyrocketing"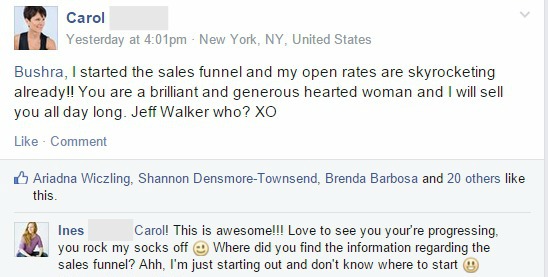 "From 9% to 22% conversion"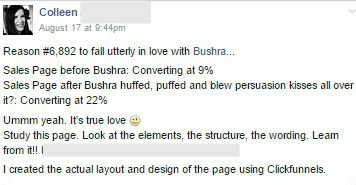 "Emails instantly opened"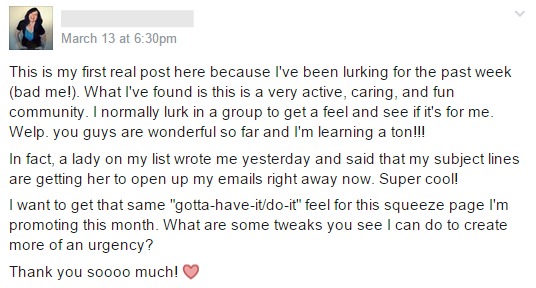 "Getting emails telling me how great my emails are"

"Community alone is worth the price"

"Just what I needed to start my online business"

"3 Hour Optin training is a godsend"

"AHA moments and Holy sh*t expressions"

"After 4 years in business, I still had a few doubts...you made it crystal clear for me"

"Persuasion Hacks Lab is my happy place"

"All my dreads about writing copy have disappeared"

"Like a lifeline when I am swimming in doubt and fears"

"Writing copy now feels easy, effortless and fun!"

"PH Lab is off-the-chain awesome and implementable"

"Worth at least $40,000!"

I promise to never teach anything that hasn't already been tested and conclusively proven to be effective. Translation: I will never use you as a guinea pig or a crash test dummy that has to suffer "let's see what works" strategy.
I promise to keep it a level playing field for all and keep this as affordable as possible so that everyone gets a chance to benefit and I earn some kickass karma in the process.

I am a sly one right?
I promise to never throw a PDF at you and then disappear behind a "support" email. I will take you step-by-step through the process, holding your hand gently and lovingly. There will be some ass-kicking involved but never desertion!